Welcome to the Morton Township Library
Holiday Closure
The library will be closed Saturday, July 2nd.  Regular hours will resume Tuesday, July 5th at 10:00 a.m.  Have a happy and safe 4th of July!
Friends of the Library Used Book Sale
Summer Evening Program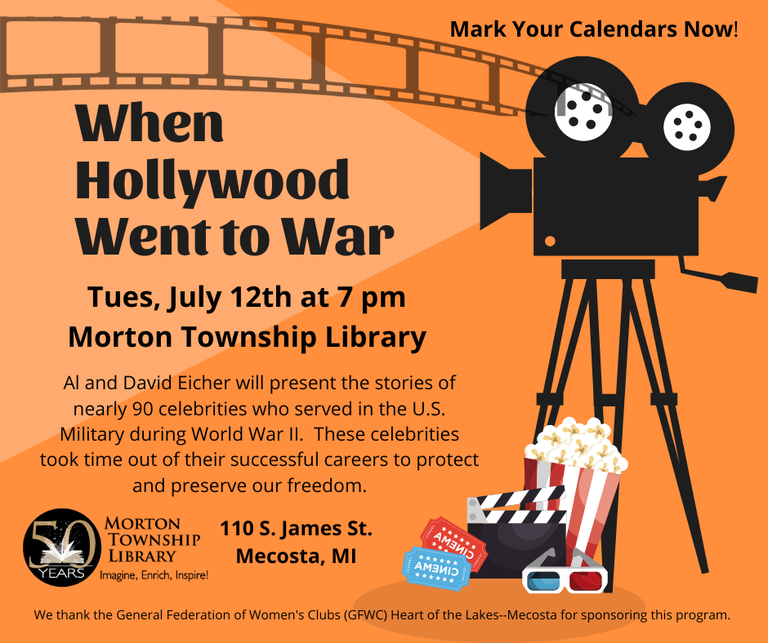 Children's & Teens' Summer Reading Program 2022

Children of all ages are invited to dive deep into reading and fun this summer!  We are excited for the return of our in-person events for preschoolers, children, and teens.  The fun begins June 14th. For more information, click on the links below.  
Events for Children
Events for Teens
Summer Reading Challenge

Summer Preschool Story Hour

Tuesdays or Thursdays
10:00-11:00 a.m.
June 14 - July 28
Children, ages 5 and under, are invited to join us for stories, songs, rhymes, crafts, snacks and FUN!  *The Tuesday and Thursday sessions are the same program, so please choose one day to attend.  
Wednesday Evening Hours 
Beginning June 8, 2022, the library will be open from 10 a.m. - 7 p.m. on Wednesdays. 
Library Hours:
Tuesday, Thursday, and Friday 10:00 a.m. - 5:00 p.m.
Wednesday 10:00 a.m. - 7:00 p.m.
Saturday 10:00 a.m. - 1:00 p.m.
Closed Sunday and Monday
WiFi Hotspot Lending Service
Morton Township Library cardholders (ages 18+) can access free, unlimited Internet through our WiFi Hotspot Lending Service.  The small and portable T-Mobile Hotspots connect enabled wireless devices to the Internet almost anywhere there is a strong cellular signal.  The loan period is 14 days.  
Friends of the Library Bookstore

Browse through a great selection of gently used books for your summertime reading pleasure.  The bookstore is located inside the library and is open Tuesday and Friday from 10:00 a.m. - 1:00 p.m. and Thursday from 1:00 - 3:00 p.m.
Morton Township Library is an equal opportunity provider and employer.