Welcome to the Morton Township Library
New WiFi Hotspot Lending Service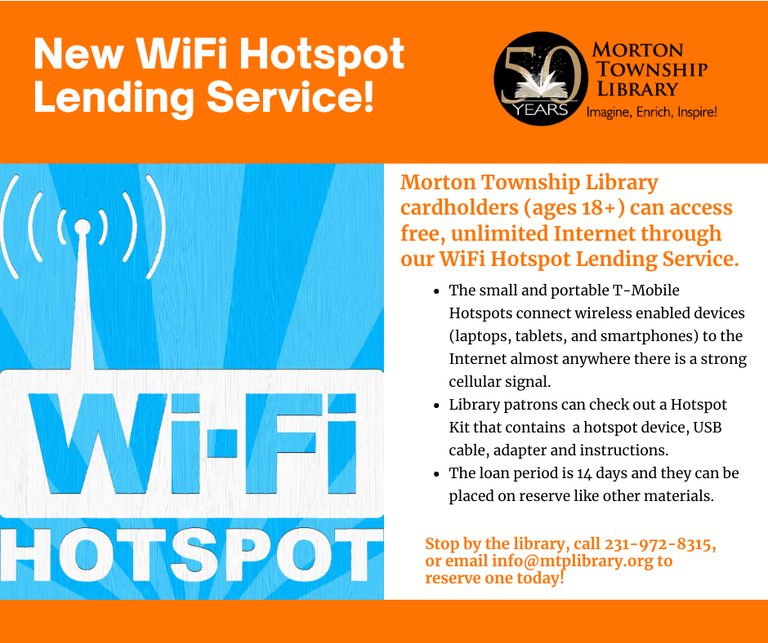 The Library is Open with Limited Hours
We are excited to welcome you back into the library beginning  Tuesday, September 8, 2020 with temporarily reduced hours.  Curbside pickup continues to be available.
Library Hours: 
Tuesday, Wednesday, Thursday, Friday 10:00 AM – 2:00 PM
Saturday 10:00 AM – 1:00 PM 
For the safety of patrons and staff, the following guidelines and precautions have been put into place.
Masks covering nose and mouth are required for ages 5 and up. Masks are strongly encouraged for children ages 2, 3 and 4.  Disposable masks are available at the information desk if you need one.  
Social distancing must be maintained.
Visits up to one hour are welcome.
Public computer use is limited to one hour per day.
All toys, puppets, and computers have been removed from the children's area.
All meeting and study rooms are closed.
Building occupancy is limited to 20.
Returned materials will continue to be quarantined for four days before being checked in.
All library programs will continue to be hosted online.
We look forward to seeing you soon!  Thank you for your patience as we facilitate a safe reopening of the library.
Curbside Pickup Service

Curbside Pickup Hours: 
Tuesday, Wednesday, Thursday, Friday 10 a.m. – 2 p.m.
Saturday 10 a.m. – 1 p.m.
Procedure:
1.  Request materials by calling the library 231-972-8315, emailing your requests to info@mtplibrary.org, or logging into our online catalog. 
        *Directions for placing holds using our online catalog.  
        *There is no rental fee for DVDs.  Check-out period is one week for
          all DVDs except new releases.  Newly released DVDs are 
          checked out for 48 hours.
         *MeLCat requesting has resumed! If there is a book, audiobook, or DVD that
           you are interested in borrowing that is not available at MTL, visit 
           https://mel.org/ to request it from other libraries around the state using your
           library card. Library staff will let you know when it is available for curbside
           pickup at MTL. 
2.  Staff will prepare your materials and call you when they are ready for pick up.
3.  When you arrive at the library, please pull into a spot next to the library on Thomas Street and remain in your vehicle. Call 231-972-8315 when you arrive and provide your name and a description of your vehicle.  If you do not have a cell phone, please inform our staff when they contact you. 
4.  A staff member will bring your materials to you in a plastic bag and place them in your trunk or on the passenger side of your car to maintain social distancing.
5.  Enjoy!  
*Returned items will be quarantined for at least 96 hours before being checked in and re-circulated.  Items will not clear from accounts until they are checked in, but fines will not be charged for the time materials are in quarantine.  
Upcoming Virtual Programs for Kids

Crafty Wednesdays for Kids

Wednesdays 10 a.m. - 2 p.m.
We provide the materials, you provide the FUN!  Stop by the library to pick up a craft kit for your child.  The craft kits can be picked up inside or you can call when you arrive, and we will bring them out to you!
Morton Township Library is an equal opportunity provider and employer.