Kids' Programs and Events

Children's Summer Reading Program 2018
Children, parents and grandparents are invited to join us for these fun, educational and family-friendly programs held in the Community Room.  Children entering grades kindergarten through 5 in the fall of 2018 can earn book bucks for time spent reading this summer.  Book bucks can be redeemed for prizes at the Book Buck Store after the Wednesday Programs.  Reading Logs will be distributed at the Wednesday sessions.  
Schedule of Events
Acting Up Theatre Company Presents "The Library of Rock"
Wednesday, June 13  1:30 - 2:30 p.m.


Follow Tommy's journey in this high-energy and hilarious show as he discovers that libraries are more than just stacks of books and places to be quiet.  He learns that libraries truly rock and are alive with art and culture.
Libraries Rock! with PaleoJoe
Wednesday, June 20  1:30 - 2:30 p.m.
PaleoJoe dresses the part of a "Digger" - he is a real digger - and introduces animals, plants, and creatures that have been extinct for millions of years.  His high energy program brings life to these creatures of long ago.
Howell Nature Center presents "Wildlife Superpowers"
Wednesday, June 27  1:30 - 2:30 p.m.


Comic books, films and popular stories are full of characters with super speed, heightened senses and other incredible gifts, but so are your backyards!  Discover the powers of native wildlife in the super presentation!
Mecosta's 4th of July Parade
Wednesday, July 4  11:00 a.m.
Summer Reading Program participants are invited to ride on the library's float in Mecosta's parade.  Line up at 10:30 on South Franklin Street.  The parade begins at 11:00.  
Gordon Russ' Comedy Magic Revue
Wednesday, July 11  1:30 - 2:30 p.m.
The magic trunk of Gordon Russ is chock-full of tricks and bursting at the seams with incredible new illusions.  The show has tons of audience participation and will have you laughing out loud!
Alex Thomas and Friends - Interactive Puppet Show
Wednesday, July 18  1:30 - 2:30 p.m.


Join us for this interactive show that brings jokes, prizes, stories, silliness and all around fun through the art of puppetry.  The zany Muppet-style puppets are sure to bring your imagination to life!
Rock and Roll Reading Show
Wednesday, July 25  1:30 - 2:30 p.m.
This rockin' program is a hip-hoppin' musical event and a look back at history.  It is fast-paced and energetic which includes audience participation.  This will be a high-energy trip back through Rock and Roll history.

Amazing Clark presents "Readers are Leaders"
Wednesday, August 1  1:30 - 2:30 p.m.


The audience will learn that reading can make you a great leader like Abe Lincoln.  There will be magic tricks, music, theatrical effects, comedy and more.  Kids will dig this show!
Thank you to the Michigan Council for Arts and Cultural Affairs Minigrant Program, administered by Lowell Arts, and to the Friends of the Morton Township Library for supporting these programs. 


Preschool Programs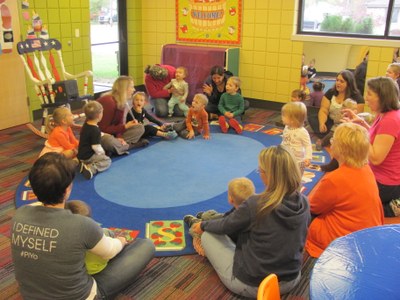 Preschool Story Hour
For children ages 1 - 5 and caregivers
Tuesdays and Thursdays 10:00 - 11:00 a.m.
June 12 - August 2

Story Hour features exciting stories, songs, finger plays, rhymes and crafts.  It is a great way to foster early literacy skills, listening skills, an increased attention span, excitement about reading, and a love of the library. Pre-registration is not necessary.  Walk-ins are welcome.