STEAM Kits
Dig deep into science, technology, engineering, arts, and math with our new Penworthy S.T.E.A.M. Kits To Go! The kits integrate high-interest books with interactive resources for family fun and learning.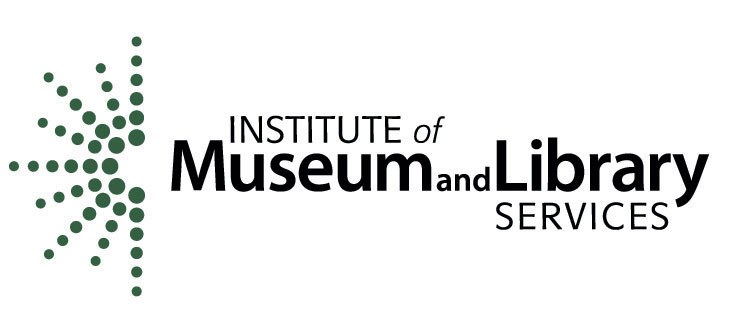 This project was made possible in part by the Institute of Museum and Library Services.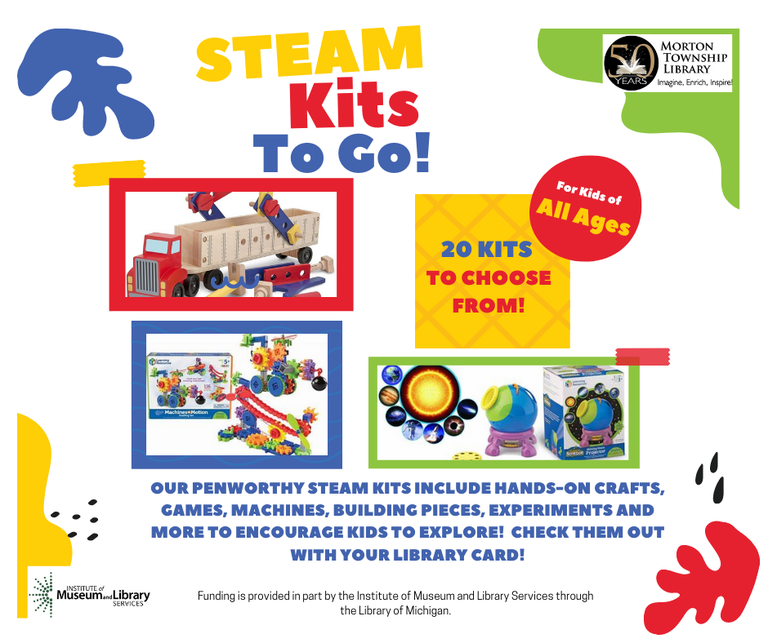 We have twenty kits available to check out, and they have everything you need to engage in fun and innovative learning activities with children.  The loaning period is one week.  
If you are interested in borrowing a kit, stop by the library, call us at 231-972-8315, email info@mtplibrary.org, or search our catalog to check availability and place the kit on hold.
Interest Level:  Grades Preschool - 3
All About Dinosaurs Kit
Interest Grade: Preschool - 3rd
Explore what would happen if you looked in the mirror and saw that you had become part dino!  Enjoy imaginative play with dinosaur figures and reusable sticker scenes.  Dinosaur Escape allows kids to work together, use their memory, and incorporate simple strategy to rescue the dinos from volcanic eruption. 

All About Magnets Kit
Interest Grade: Preschool - 3rd
Kids will be pulled toward this Steam kit with it's hands-on introduction to the fascinating powers of magnets. STEAM lessons are irresistible when you add the excitement of fun, colorful tools to scientific exploration. 

Arts and Crafts Creative Kit
Interest Grade:  Preschool - 3rd
The Arts and Crafts Creative Kit lets kids express their creativity using a variety of materials and recycled items for hours of fun. The hands-on manipulatives can be used individually or as a group for left brain development and critical reasoning skills. Eco-friendly adults can help their kids make 60 cool crafts using the Penworthy Prebound book included.


Engineering Gears and Magnets Kit
Interest Grade:  Preschool - 3rd
Hands on crafts, rolling marble gravity mazes, and machines that move, the Engineering Gears and Mazes kit has all the enrichment a future engineer could need. With open ended play and building options, these items help kids learn and build STEM skills like critical thinking through trial and error. Colorful pieces help keep kids engaged and drive imaginative thinking. Get the ball rolling and the gears cranking with this great kit.

Money, Math, and Economics Kit
Interest Grade: Preschool - 3rd
The Money, Math & Economics Kit introduces the concept of money recognition, money management and math skills using play money in a hands-on play environment. The kit encourages interactive play to help children buy, sell and learn the value of money and teach basic financial literacy concepts. 


Ready, Set, Kindergarten Kit
Interest Grade: Preschool - K
Preparing for school doesn't need to be a chore. The Ready, Set Kindergarten kit is a comprehensive collection of activities and hands-on tools designed to spark curiosity while learning age appropriate subjects. Each component will help develop problem solving and fine motor skills disguised as fun.


Robotics and Coding Kit
Interest Grades: Preschool - 3rd
The world of coding continues to expand every day. This kit is full of fun facts about robots, computers, x-rays and other cool technology and inventions. Kids will get active with the interactive coding games that keeps bodies busy while brains gain valuable practice in sequencing, decision making and following commands just like a computer.


Sounds, Music and Band Kit
Interest Grades: Preschool - 3rd
Children will delight in this silly sing-along story with funny, eye-popping illustrations and informative picture guides to help readers to mimic and act out the hand and foot movements and develop their fine motor skills. Play along and create fun songs using the band equipment provided to encourage creative play and to help children experience the fun of making music.


Trucks and Tools Kit
Interest Grades: Preschool - 3rd
The Trucks and Tools Kit is designed for the young gear-head.  The two-piece tractor trailer and the Design and Drill Bolt Buddies are interactive hands-on manipulatives for building fine motor skills.  Kid friendly tools are designed for tiny hands and encourages creativity and problem-solving skills.  Kids will love Trucks!, a level two Ripley Reader featuring great pictures and information about various trucks.  

Understanding Our Universe Kit
Interest Grades: Preschool - 3rd
Project real images of our solar system including stars, planets, and galaxies.  Kids can line the colorful magnets up by order to form a solar system model or mark the planet with their brief description magnets.  Take a journey through t he story of space travel and how our exploration has developed.

Yoga for Mindfulness Kit
Interest Grades: Preschool - 3rd
Namaste should be in every child's vocabulary. This kit is a delightful introduction that encourages teamwork and healthy physical activity. Designed to encourage children to experiment with basic yoga poses and build confidence using two engaging games for multiple players.

Interest Level:  Grades 4 and Up
Building and Design Kit
Interest Grades: 4th and Up
Dive into a behind-the-bricks look at the beloved LEGO toy with this hands-on STEAM kit. Kids can take what they learned in the world of LEGO engineering and apply it to the KEVA Brain Builders and City Engineer sets which give you the tools to design and build creations to solve challenges.


Electronics, Coding and Bots Kit
Interest Grades:  4th and Up
Science Comics gives us a high-interest graphic novel packed with facts on robots and drones: past, present and future. Kids apply the information to coding with Artie the programmable robot that draws whatever you code on any sheet of paper. Use Snap Circuits to enjoy hours of educational fun while learning about electronics and circuits with hands-on manipulatives and easy-to-follow activity guides.


Estimation and Patterns Kit
Interest Grades: 4th and Up
Kids practice place value, estimation and operation concepts with a 1,000 piece centimeter cubes set helping them visualize quantities with ease. The 120 Activity Mat immerses kids into number concepts through 120 and teaches place value and number patterns. Penworthy Prebound Books support estimation and visualization in a high-interest manner.


Everyday Science Kit
Interest Grades: 4th and Up
Explore popular science topics in DC Superhero Science, an action-packed nonfiction title, featuring experiments led by beloved DC super heroes. Use the scientific method like Bumblebee, defy gravity like Superman, or make things out of light like Green Lantern. Perform cool chemistry experiments and dig into the fascinating world of insects with simple activities that can be completed with items found around the house or in nature.

Examine Science & Nature Kit
Interest Grades:  4th and Up
Let's go and explore! The Examine Science and Nature Kit encourages kids to explore everyday items in their house, backyard or on a nature walk. The Handheld Mini Microscope and Specimen slides gives children a lens into assorted specimens including: algae, fish scales, coffee, grasshopper, silk to name a few. The fun and memory boosting game features essential science and nature topics to teach life science topics.


Explore the Outdoors Kit
Interest Grades: 4th and Up
The Explore the Outdoor Kit encourages kids to explore the great outdoors.  Perfect for nature walks and backyard exploration with the submergible Aqua Viewer and 2 -1 Explorer Scope for up-close examination of everything from rocks to bugs.  Perfect for STEM learning and exploration on the go.  

Machines and Contraptions Kit
Interest Grades: 4th and Up
Young thinkers explore the ideas of Leonardo DaVinci through his notebook sketches, showing how his ideas foreshadowed modern inventions.  Students construct, examine and explain simple machines to develop a deeper understanding of how they make work easier.  KEVA planks build an early understanding of proportion and balance, while teaching basic principles of physics and engineering.

Math Games and Trivia Kit
Interest Grades: 4th and Up
Math can be a blast when you're playing games!  This kit has you crunching numbers and tests your knowledge of geometry, fractions, and more through two games.  Kids will have math on their minds with this entertaining kit that brings math to life like you've never seen before.

My Amazing Body Kit
Interest Grades: 4th and Up
From your head to your toes, the My Amazing Body Kit is an introduction to anatomy and explains the important parts of your body.  The hands-on manipulatives for the heart, brain and skeleton will provide children an in-depth look into the human body and create an appreciation for everything their bodies can do.