Adult Programs
Spring Grab & Go Craft Kit
These card packs include everything you need to make five all-occasion cards!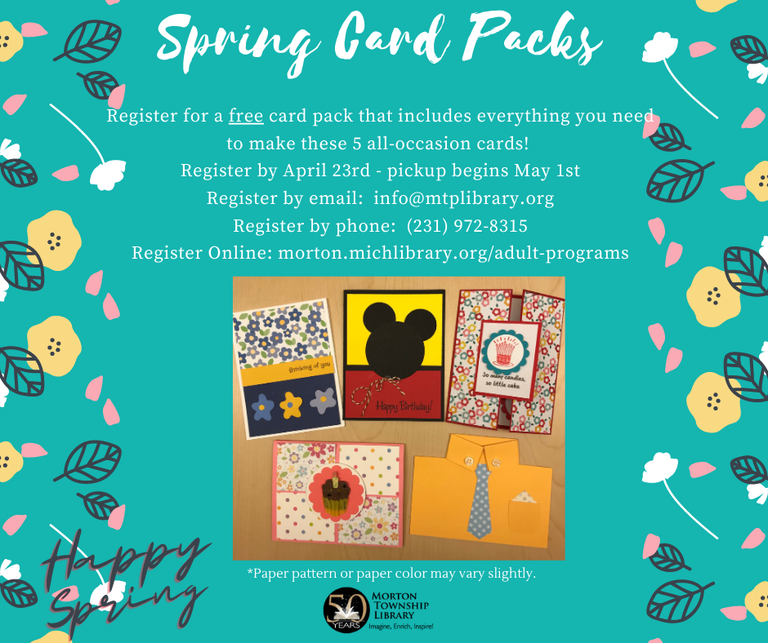 Click Here to Register for a pack.
You may also register by emailing info@mtplibrary.org or calling 231-972-8315.  Card Packs will be available to pick up at the library beginning May 1st. 
Page Turners' Book Club
Canceled until further notice.
Are you interested in reading a variety of literature?  Do you enjoy discussing literary works?  If so, this is the group for you!  New members are always welcome.
Technology Classes
Free personalized computer classes are available at the library by appointment at 10:00 AM and 11:00 AM on Tuesdays and Wednesdays.  Topics include Overdrive (eBooks), Basic Internet, Basic Email, Microsoft Office (Word, Publisher, Excel, PowerPoint, Google, Craigslist, Smartphones, and more.  For more information or to schedule a class, please email info@mtplibrary.org or call 972-8315.
Technology Services Open Hours

Tuesdays and Wednesdays
12:00 - 2:00 p.m.
Do you have questions about:
Using email
Using the Internet
Downloading eBooks from the library's Overdrive Collection
Getting library books on a Kindle or Nook
Connecting your device to WiFi
Microsoft Word
Microsoft Excel
Using Google
Using Craigslist
Using a Smartphone
or anything else technology related?
Technical assistance is available without an appointment on Tuesdays and Wednesdays from 12:00 - 2:00 p.m.