Adult Programs
Summer at the Library - Programs with Michigan Connections
Thank you to the Michigan Council for Arts and Cultural Affairs Minigrant Program, administered by Lowell Arts, and to the Friends of the Morton Township Library for supporting these programs.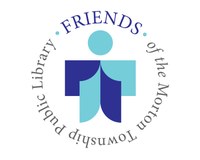 Michigan Notable Author Visit - Viola Shipman
Thursday, June 8, 2017    7:00 p.m.
Library Community Room
Every year, the Library of Michigan selects up to 20 of the most notable books, either written by a Michigan resident or about Michigan.  We are honored to have Viola Shipman (a.k.a. Wade Rouse), talk about his Michigan Notable book The Charm Bracelet.  The Charm Bracelet revolves around a keepsake bracelet owned by an elderly grandmother.  Each charm is a marker for a family memory that she fears will go unknown by her daughter and granddaughter.  Three women rediscover a passion for living as each charm from the bracelet changes their lives.  

Lake Michigan Walk with Author Loreen Niewenhuis
Tuesday, June 20, 2017   7:00 p.m.
In 2009, Loreen Niewenhuis walked completely around Lake Michigan.  Her talk will chronicle this journey and the geological exploration of the lake, as well as the natural and human history of Lake Michigan.  Jerry Dennis, author of Living the Great Lakes, says "Her adventure is told with verve and boldness."
Michigan Forgotten Serial Killers with Author Tobin Buhk
Thursday, July 13, 2017   7:00 p.m.
Freelance author, Tobin Huhk, specializes in historic true crime.  His latest publication Murder and Mayhem in Grand Rapids delves into the colorful characters of Grand Rapids' past and the heinous crimes they committed.  He will entertain you with murder mysteries in Michigan.
UFOs Over Michigan with Bill Konkolesky
Wednesday, July 19, 2017   7:00 p.m.
Bill Konkolesky is the State Director of the Michigan Chapter of Mutual UFO NEtwork.  Bill's first memory was a visit from a strange little man with giant eyes...an alien.  It would be the first of many visits he would receive over the years.  Bill will share his knowledge of and personal accounts with the UFO phenomenon over Michigan.  
B-side Growlers with Mary, Matt and Pete
Tuesday, August 15, 2017  7:00 p.m.
B-side growlers are a three member band from Grand Rapids who have been playing music together since the 1980's.  Their tagline is "Tradition inspired, toe-tappin' fired, vintage acoustic blues, jazz and country."  All are welcome to come for a great evening of music.
Page Turners' Book Club
The second Tuesday of the month
1:00 p.m.
Library Meeting Room
Are you interested in reading a variety of literature?  Do you enjoy discussing literary works?  If so, this is the group for you!  New members are always welcome.
2017 Book Selections
June - The Life We Bury by Eskens
July - Hag Seed by Atwood
August - The Storied Life of AJ Fikry by Zevin
September - The Wright Brothers by McCullough
October - The Paris Architect by Belfoure
November - The Informant by Eichenwald
December - To Be Determined
Computer Classes
Free personalized computer classes are available at the library by appointment at 10:00 AM and 11:00 AM on Tuesdays and Wednesdays.  Topics include Overdrive (eBooks), Basic Internet, Basic Email, Microsoft Office (Word, Publisher, Excel, PowerPoint, Google, Craigslist, Smartphones, and more.  For more information or to schedule a class, please email Deb at the Information Desk mtplibrary@centurytel.net or call 972-8315.
Technology Services Open Hours
Tuesdays and Wednesdays
12:00 - 3:00 p.m.
Do you have questions about:
Using email
Using the Internet
Getting library books on a Kindle or Nook
Connecting your device to WiFi
Microsoft Word
Microsoft Excel
Using Google
Using Craigslist
Using a Smartphone
or anything else computer related?
Technical assistance is available without an appointment on Tuesdays and Wednesdays from 12:00 - 3:00 p.m.